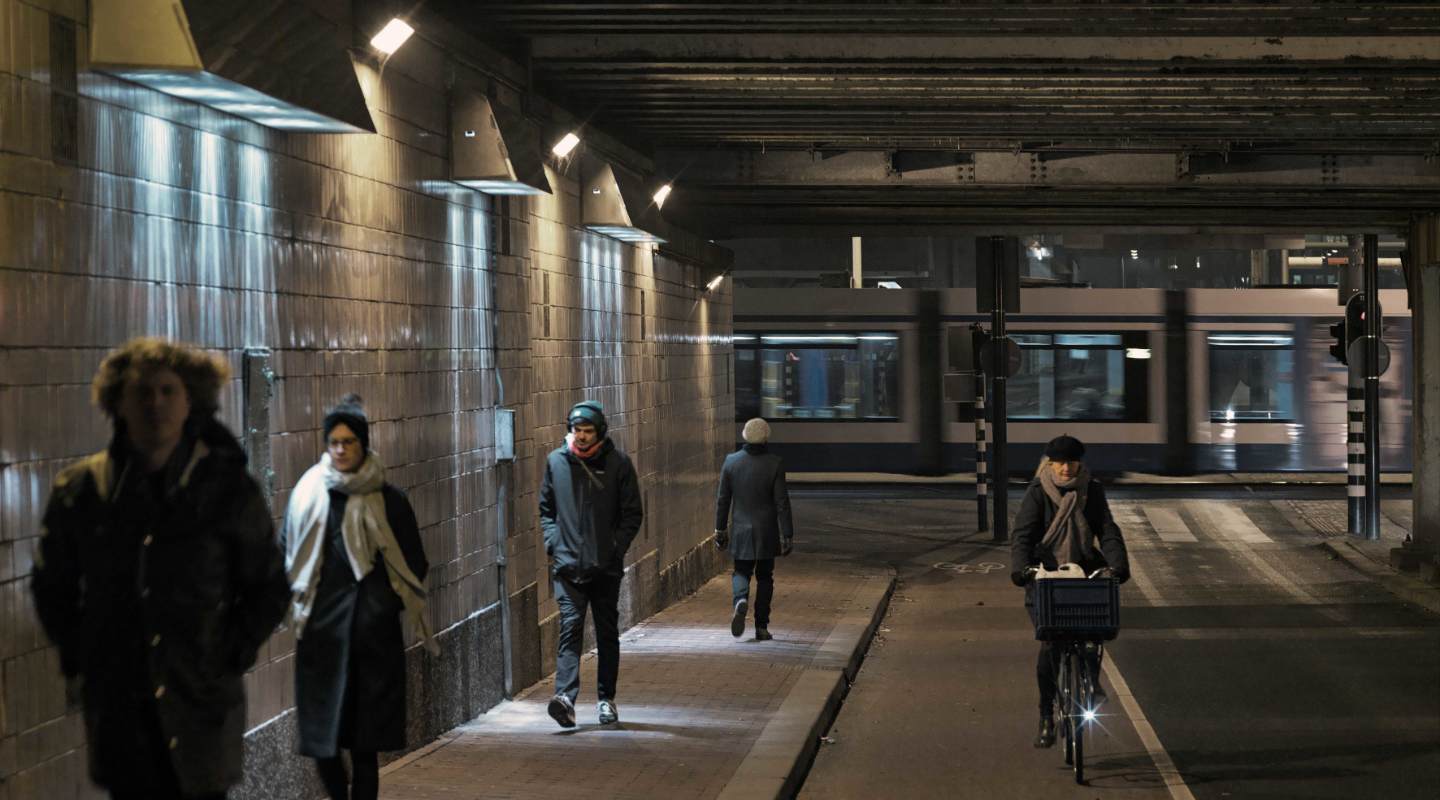 The light installation Het Licht van Jan (Jan's light) was unveiled today in an industrial traffic underpass near Amsterdam's city center. In the artwork by Matthias Oostrik, passersby activate surging light projections that illuminate the narrow sidewalk and weathered walls of the underpass. These undulating projections echo Amsterdam's history, recreating the reflections of sunbeams on the water, now replaced by artificial islands. To create the dynamic projections that move with the passersby, Het Licht van Jan uses a surprisingly simple arrangement of steel grates and widely spaced lights.
Matthias' artworks enable new and unusual connections between people and their surroundings. Using digital technology, his installations respond to visitors with changing light, video, or sound, allowing visitors to reshape their environment. His works in public space are often functional. They contribute to a sense of security and are designed to last.
An early and well-received example of his work is the Bijlmer Moodwall (2009), located in a pedestrian passage in Amsterdam. This interactive facade reacts to visitors with playful streaks of light that move alongside them. In the recent installation A Trail of Water (2020) in the Dutch city of Assen passing trains trigger a unique light composition: A waterfall of light cascading down over the concrete embankment and overgrown slopes of an overpass.
Het Licht van Jan is activated by pedestrians who walk on the narrow sidewalks of the Kattenburgerstraat underpass. In the darkest parts of the tunnel, they trigger bright projections of light. On the aged tile walls, beams of light move along with the pedestrians, while on the sidewalk, waves of light gently sway towards them.
The projections, three on either side of the road, are created by shining a row of ultra-bright lights through a series of custom-designed grates. The shadows of the unique grates interact to create moiré patterns, producing entirely different effects on both the wall and the floor. In stark contrast with the existing warm, almost orange streetlights, the projections use cold white light.
Like so many places in Amsterdam, the underpass is located on a historical site, where several natural and constructed bodies of water existed before the railway was constructed on an artificial strip of land in the late 19th century. Het Licht van Jan brings back this past by reviving both the flow of water on the ground as well as the sunlight radiating through the railway tracks on the walls.
Het Licht van Jan is developed in commission by the City of Amsterdam and is supported by the Amsterdam Fund for the Arts.
More for you